JR, Wrinkles of the City, Los Angeles - JR is back with the next instalment of his worldwide project The Wrinkles of the City. This time the visionary artist focuses on the people of Los Angeles. Is it really as superficial as the media paints it?
JR knows how to hold up a mirror to a community. "In the home of the moving image," Jane Rosenthal writes, "he has used his still photographs – stunningly magnified and arrestingly positioned – to prompt profound questions about what a meaningful life entails."
This is JR's way of reminding us that we are all witnesses to the triumphs and outrages of our generation. As he photographs his subjects, he listens to their fascinating life stories and immortalises the only witnesses left of the past. Los Angeles is where the Hollywood myth was born, where glamour and beauty of the city has come to define it. For this project, JR juxtaposes the imperfection and the meaning which is held in the wrinkles of the elderly with the image of 'perfection' and regenerated beauty that has become a hallmark of the 21st Century.
JR, born in France in 1983, is an artist who exhibits freely in the streets, communities and public spaces of the world, catching the attention of people who are not typical museum visitors. His work mixes Art and Action; it tackles themes such as commitment, freedom, community and identity.
JR's career as an artist began in 2001 when he found a camera in the Parisian Metro. In 2006, he launched Portrait of a Generation, huge-format portraits of suburban "thugs" from Paris' notorious banlieues, posted on the walls of bourgeois districts in Paris. In 2007, with his partner Marco Berrebi, he created Face 2 Face, which some consider the biggest illegal photo exhibition ever. JR posted huge portraits of Israelis and Palestinians face to face in eight Palestinian and Israeli cities and on both sides of the security fence/separation barrier. He embarked on a long international trip in 2008 for his project Women Are Heroes underlining the dignity of women who are the target of conflict. In 2011, he won the TED Prize for his phenomenal work done worldwide, after which he created Inside Out, an international participatory art project that encourages people worldwide to get their picture taken and paste it up in their home environment. It's a global platform for people to share their personal stories and contribute a sense of identity to their communities through their participation in a global art project. 
In 2014 he realizes the followoing projects: a huge installation of Inside Out au Panthéon in Paris, a collaboration with New York City Ballet, Women are Heroes a pasting of a container ship in Le Havre, Unframed on Ellis Island. In 2016 he realizes scaffolding installations at the 2016 Rio Olympic Games, intervenes in the courtyard of the Louvre. In 2017 he received an Academy Award Nominated feature documentary Visages Villages co-directed with the French New Wave director Agnès Varda, realizes a huge photographic installation at the US-Mexico border fence, and the murals The Chronicles of Clichy-Montfermeil (suburbs of Paris). In 2018 it is the turn of the photographic and cinematographic project Guns in America The Chronicles of San Francisco and The Chronicles of New York City. In 2019 JR had solo shows at SFMOMA, San Francisco, and Brooklyn Museum, New York, USA. In 2021 JR: Chronicles is on show at Groeningen Museum (The Netherlands) and in 2022 at the Munich Kunsthalle.
JR's blown-up photographs are pasted on mainly urban surfaces such as the sides of buildings, bridges, rooftops and even trains. Not only do they confront the public audience, they help engage audiences where they least expect it while involving their respective communities in an artistic action that consolidates their relationship to their immediate surroundings; JR's art is about asking questions and opening a conversation between people.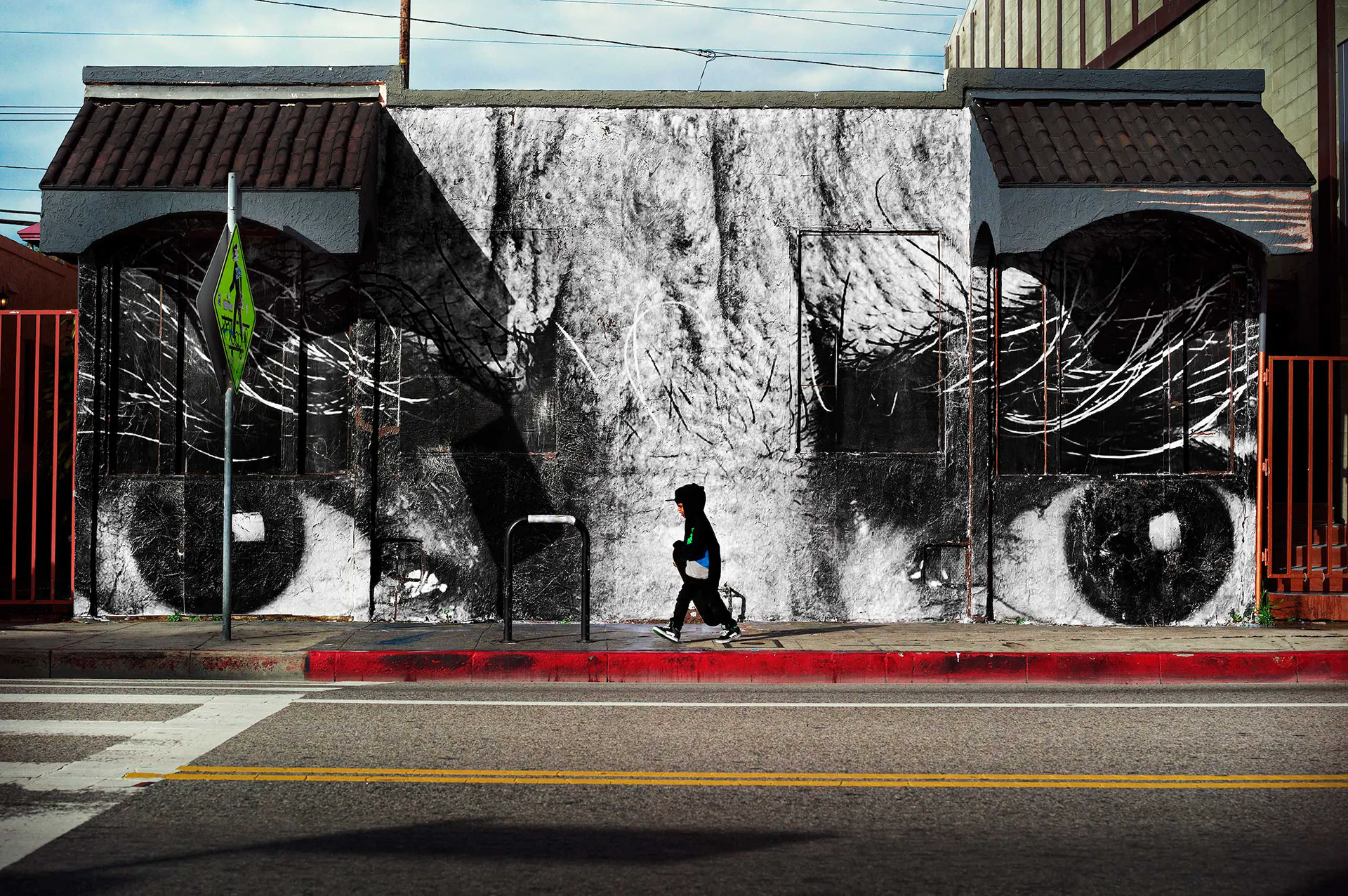 JR,

Wrinkles of the City, Los Angeles
Hardcover, 30x30 cm, 144 pages  |  Drago Publisher   |  ISBN: 978-88-88493-90-9